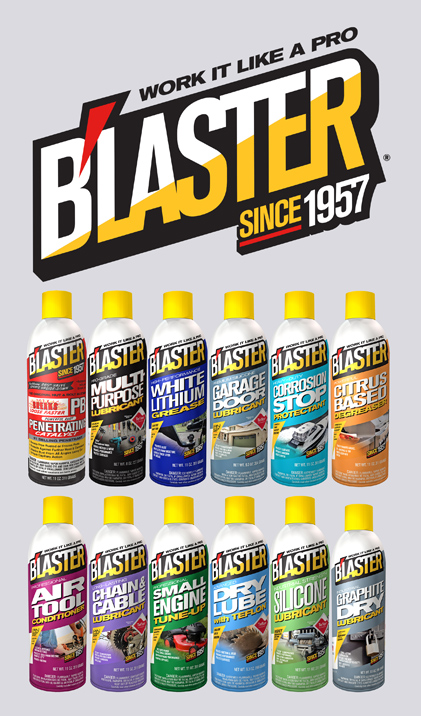 Today, the B'laster Corporation announced their newly redesigned packaging has begun shipping to retailers nationwide. The company first revealed their new brand and look this past November. It includes completely rebranded guidelines, including logo, new package designs and all collateral material, "Work it Like a Pro" as the new purpose and tagline, as well as their partnership with the Teflon™ brand.
"We are excited to get the new packaging on retailer shelves for consumer access," says Randy Pindor, executive VP of Marketing, "The rebranding reflects the evolution of the B'laster
Partnership with Teflon™ Brand
Included in the new brand is the partnership with the Teflon™ brand and business team. Pindor continues, "There's a never-ending desire to make the best professional-grade products and to continuously improve our formulations, which is why we are thrilled to be partnering with Teflon™."
Five current B'laster products have been reformulated to contain Teflon™ fluoropolymer:
• Pro-Grade Multi-Purpose Lubricant
• Premium Garage Door Lubricant
• Industrial Strength Silicone Lubricant
• Long-Lasting Chain & Cable Lubricant
• Advanced Dry Lubricant with Teflon™
Work it Like a Pro
From today, Work it Like a Pro, will serve as both B'laster's purpose and its tagline, becoming central to its redesigned brand. Pindor says, "We've been manufacturing professional-grade products since 1957 and, essentially enabling our customers to 'work it like a pro'. Now we are capturing that in a targeted and concise way."
New B'laster Logo & Package Design
The new B'laster logo and package design was created after performing substantial market research. Pindor continues, "The new logo evokes the power, durability and strength of the original brand and product line, while the new can designs lend to a more modern, clean look." The new brand guidelines feature a refreshed version of the B'laster legacy with a blend of traditional colors, contemporary typeface options and angles that reflect the heritage B'laster apostrophe.
The full line of B'laster products, including the five products enhanced with Teflon™, are now available to consumers at retailers nationwide.
About The B'laster Corporation:
Since 1957, The B'laster Corporation has manufactured penetrants, lubricants, rust inhibitors and a full line of specialty, highly concentrated formulas for the automotive, industrial and hardware industries. For 58 years, the family-owned company maintains, improves and designs new products. Makers of PB B'laster, the #1 selling penetrant, B'laster is the professional choice.
For more information about B'laster Corp., call (800) 858-6605 or visit www.blastercorp.com
You can also find B'laster on Facebook www.facebook.com/BlasterCorp and Twitter www.twitter.com/blasterproducts
About Teflon™
The Teflon™ brand is owned by the Chemours Company (a DuPont Company spin-off). Today, products that carry the Teflon™ brand are the preferred solutions in many applications and deliver a special brand promise of "making life easier". Chemours is a global leader in titanium technologies, fluoroproducts and chemical solutions, providing its customers with solutions in a wide range of industries with market-defining products, application expertise, and chemistry-based innovations. For more information, please visitchemours.com or www.teflon.com.