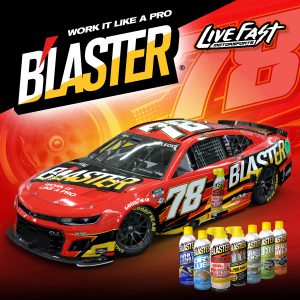 Valley View, OH (Jan. 10, 2022) – B'laster Holdings, LLC., and Live Fast Motorsports announced today that B'laster will expand its 2023 partnership to nine primary races – in addition to serving as the Official Performance Chemical of Live Fast Motorsports throughout the 2023 NASCAR Cup Series (NCS) season.
B'laster will kick off its 2023 campaign aboard B.J. McLeod's No. 78 Live Fast Motorsports Chevrolet Camaro at the spring NCS event at the Atlanta Motor Speedway before continuing at the Bristol Motor Speedway Dirt Race, the spring Talladega Superspeedway event, the Coke 600 at Charlotte Motor Speedway, the summer race at Atlanta Motor Speedway, Pocono Raceway, the Regular-Season Finale at the Daytona International Speedway, and the fall event at Texas Motor Speedway before concluding their 2023 season at the fall playoff race at Talladega.
"We had a great first-year partnership with Team Live Fast," said President & CEO, Randy Pindor. "We knew we wanted to expand and are stoked to announce nine races this season. We know Live Fast will give their all and we can't wait to see BJ in a Camaro this year."
"I'm thrilled to be partnering with B'laster for a second year," said co-owner of Live Fast Motorsports, Matt Tifft. "Working with B'laster's team as well as using their products has been incredible. We look forward to seeing this relationship grow throughout the next season and making the Rust Belt Warriors proud!"
Tune in on March 19th to cheer on B.J. McLeod and his No. 78 B'laster Chevrolet Camaro at Atlanta Motor Speedway – airing live at 3 PM ET on FOX. 
About B'laster Holdings
B'laster Holdings has a portfolio of strong brands that consumers rely on to get the job done. With a legacy going back to 1957, the Company prides itself on serving its customers with flexibility, while being a fun, people-focused place to work. Its brands include B'laster, AC Avalanche, Casite, Gunk, Liquid Wrench, and Titeseal. 
About B'laster:
B'laster LLC is a chemical manufacturing company based in Valley View, OH. Founded in 1957 with PB B'laster Penetrant, the company has since expanded its portfolio to include penetrants, lubricants, cleaners, solvents, removers, grease, and protectants. Currently, the company's President and CEO is Randy Pindor.
About Live Fast Motorsports:
Live Fast Motorsports is a single-car Chevy Camaro team based in Mooresville, NC., competing in the NASCAR Cup Series under the No. 78. The team is co-owned by B.J. McLeod and Matt Tifft. B.J. McLeod also serves as the team's driver. Jessica McLeod, CEO of Live Fast Motorsports, gives a progressive outlook in breaking down barriers in the sport of NASCAR and inspiring opportunities for women in the sport for generations to come.