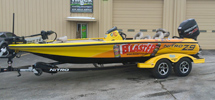 The B'laster Corporation, maker of PB B'laster, the #1 selling penetrating catalyst for 58 years, today announced a new sponsorship of Mike Webb, professional bass fisherman and founder of K.A.S.T. (Kids Are Special Too).
B'laster Corporation's sponsorship will include products, banner placement and financial support for over 20 personal appearances at NASCAR races, Bass Pro Shop Seminars and grand openings, as well as dozens of appearances at K.A.S.T. seminars annually.
Webb has over 40 years of experience as a professional bass fisherman. He was named 2012 Angler of the Year Central Pro AM Fishing Circuit and was part of Bass Pro Shop and National Tracker Team since 1996.
"We are pleased to be sponsoring Mike Webb and the K.A.S.T. program. He's using his passion to creatively deliver an anti-drug message to kids across the country, which is message B'laster undoubtedly supports." said Randy Pindor, Vice President of Marketing at B'laster. "We are proud to have our logo on his boat," added Pindor.
K.A.S.T. is a program that was founded by Webb that conducts seminars at elementary and middle schools nationally to educate kids about using the outdoors as an alternative to drugs. K.A.S.T. special events include boat shows, fishing fairs, car shows and speaking engagements.
The B'laster Corporation manufactures penetrants, lubricants, rust inhibitors and a full line of specialty, highly concentrated products for the marine industry, as well as the automotive, industrial, home improvement and hardware industries.
For more information about upcoming appearances by Mike Webb and his B'laster sponsored boat, visit www.webboutdoors.com or www.facebook.com/BlasterCorp