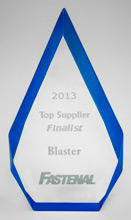 The B'laster Corporation today announced they have been named among the top three finishers in The Fastenal Company's annual "Supplier Scorecard" performance rating system. This was the first year B'laster finished in 2nd place in their assigned category. 65 companies competed in this level 4 category. Suppliers are organized into classes based on annual sales volume.
Fastenal determines its winners based on criteria such as sales growth, order fulfillment, operations, and other key performance measures. Suppliers compete for the honor utilizing Fastenal's Supplier Scorecard to track their performance versus similar sized companies within Fastenal's supplier network.
"It's an honor to be recognized as a top tier vendor associated with a company know for outstanding local customer support. We continually work on improving all aspects of The B'laster Corporation, through hard work and dedication to our products, service, and support, and we are thrilled with this recognition," said The B'laster Corporation president Kurt Gabram.
B'laster and the other winning vendors were recognized in an awards ceremony at the Fastenal Company banquet earlier this month. George Ebert from B'laster was on hand to accept the award.